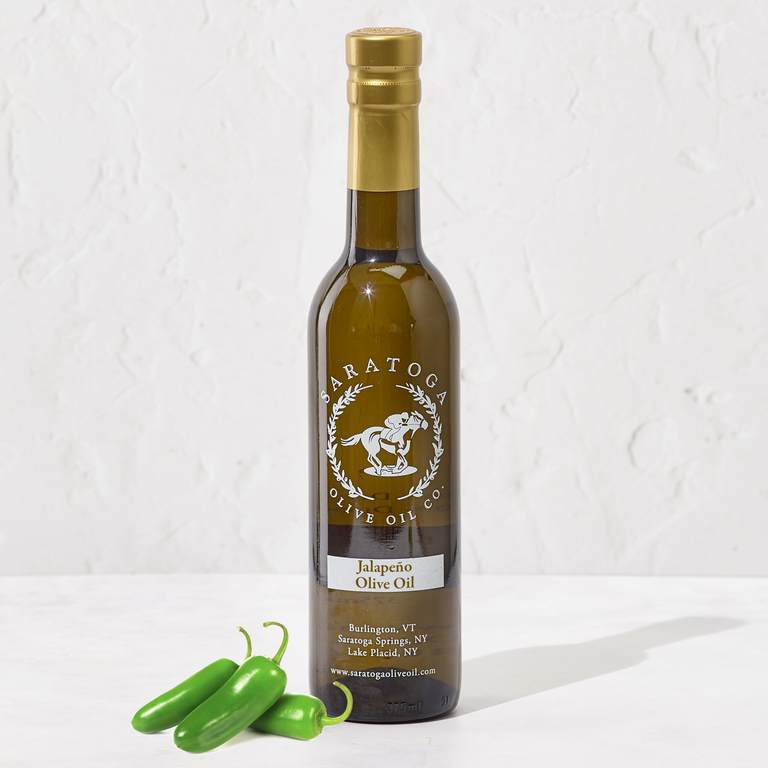 Jalapeño Olive Oil
Freshly custom crushed in Murcia, Spain, takes you on a spicy joyride of green jalapeno peppers mixed with olive oil.
Product Description
Ingredients
Pressato is the Italian word for "pressed" which is a popular method used for crushing ripened olives and fresh jalapeños simultaneously. Brace yourself for a flavor explosion that's hotter than the dance floor on a Saturday night. Aromas of fresh, hot, and tangy jalapeno peppers mingle with the unmistakable olive saltiness, promising a charming mix of scents and flavors. With its mouth watering medley of heat and zest, this Jalapeno Olive Oil's spiciness doesn't ghost out – it lingers in the best possible way.
And if you need more proof of its fiery prowess, the Jalapeno Olive Oil was the Gold Medal winner at the 2022 L.A. County International Olive Oil Competition.

All Saratoga Olive Oils are Kosher Certified.

Ingredients:
Extra virgin olive oil, Jalapenos
Frequently bought with
---
Honey Ginger
White Balsamic Vinegar
$13.95
Honey Ginger Balsamic Vinegar
---
Take out fake out with the amazing combination of our Honey Ginger Balsamic Vinegar and Sesame Oil. Better for your...
---
---
---
Hickory Smoked
Dark Balsamic Vinegar
$13.95
Hickory Smoked Balsamic Vinegar
---
Let your South Western culinary creativity run wild! Whether you're a grilling guru or simply crave smoky sweetness, our Hickory Smoked Dark Balsamic...
---
---
---
Coconut
White Balsamic Vinegar
$13.95
Coconut Balsamic Vinegar
---
The flavor of our Coconut Balsamic Vinegar evokes that of pristine beaches, swaying palm trees, and the balmy air of a tropical paradise....
---
---