Taconic Bourbon Barrel Aged Maple Syrup
This Grade A Amber maple syrup is aged in dark, delicious, and dreamy. One taste of this and you'll never want to go back to the other stuff!
When you think "maple syrup" you automatically think "breakfast." We're here to change that. Based out of the Hudson Valley, Taconic Distillery ages their Grade-A maple syrup in their own bourbon barrels, transforming your classic breakfast staple into a more mature, sophisticated version! Being that it's been aged in Dutchess Private Reserve Bourbon barrels, the flavor is big and the aroma is intoxicating. Our Taconic Distillery Bourbon Maple Syrup is just screaming to be included at your summer BBQ. 
Pair with our Chipotle Olive Oil for a world class BBQ glaze
Pour over fresh, hot pancakes
Meat Marinades
Warm it up and drizzle over vanilla bean ice cream
Produced by Taconic Distillery in New York state. 
Recipes you'll love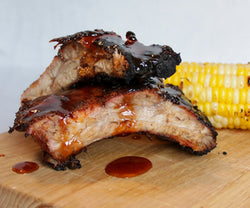 Maple Chipotle Ribs
Our customers say it best