Teriyaki Balsamic Vinegar
Imagine the perfect blend of sweet, salty, and tangy all bottled up in this balsamic wonder. It's the secret ingredient you never knew you needed for grilling season!
Get ready to enhance your grilling game with our Teriyaki Balsamic Vinegar! This healthier alternative to the generic, bottled, sugar-packed teriyaki sauce is a flavor-packed, tongue-tingling Asian-inspired adventure waiting to happen in your kitchen. As you pour, you'll catch prominent notes of tangy ginger dancing with a hint of sweet lemongrass, all perfectly balanced with a subtle shoyu-like saltiness.
Turn tofu into a taste sensation that'll have you saying, "tof-wooow!"
Mix it with our Garlic Olive Oil to create an unmatched marinade for chicken or beef.
Pour it over salmon or veggies and grill your pains away!
Stir-fries become stir-fun with every drizzle. You'll be wok-ing on sunshine!
Create a unique teriyaki glaze to drizzle over everyting. 
Your culinary parties are about to get lit!
All of our balsamics are aged in wood barrels for up to 18 years. They are naturally free of any sugars, thickeners, and artificial ingredients. All-natural, always.
Ingredients:
Cooked grape must, wine vinegar, natural flavors, naturally occurring sulfites
Frequently bought with
---
Garlic
Olive Oil
$13.95
Garlic Olive Oil
---
One of our top reviewed products. Never mince garlic again! Infuse your cooking with this all natural garlic olive oil.
Blair, our Sales Operations & Customer Service Manager, enjoys using Garlic Olive Oil when she makes roasted potatoes.
---
---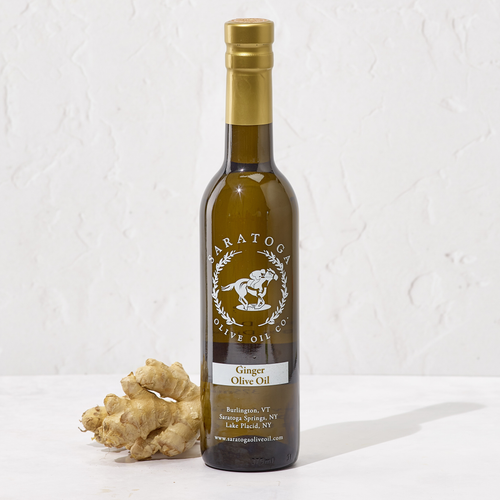 ---
Ginger
Olive Oil
$13.95
Ginger Olive Oil
---
Imagine the bold kick of ginger fruitiness and mild spiciness joining forces with the smooth charm of olive oil – it's like a taste bud party that's about to become your kitchen's favorite!
---
---
---
Sesame Oil
$10.00
Sesame Oil
---
To achieve the tremendous depth of rich, nutty flavor, our Japanese Sesame Oil is roasted slow and low and then pressed in small batches. Easily one of the most flavorful and fragrant oils in the world!
Steve, manager of our Saratoga Shop, brushes Sushi-Grade Yellowfin Tuna with Roasted Sesame Oil, before coating it with sesame seeds and quickly searing each side in a cast iron pan.
---
---
Our customers say it best