Tuscan Herb Olive Oil & Peach Balsamic
A must-have for the warmer months, this pairing matches the herbaceous flavors of basil, oregano, garlic and rosemary with the summertime sweetness of juicy, sun-ripened peaches. From sparkling seltzer to spirited salads; marinated pork tenderloin to grilled chicken flatbread, this multi-dimensional duo is as delicious as it is versatile.
Try this recipe: Tuscan & Peach Chicken Salad, Grilled Peachy Caesar Salad
Tuscan Herb Olive Oil: As our signature olive oil, your senses will have you convinced you are taking a stroll through the Tuscan countryside. Savor the fresh herb blend of oregano, basil, garlic, and rosemary as the infused, full-bodied merge of flavors elevate your next fresh pasta, marinated chicken, or colorful vegetable dish!
Peach Balsamic: Extremely adaptable, this surprisingly crisp balsamic has been aged up to 12 years and hailed to us from Modena, Italy. The fresh, smooth, and invigorating flavor will instantly transport you to a warm summer orchard regardless of the time of year. Enjoy this mouthwatering sweetness as a glaze, add a depth of flavor to bbq sauce, and is perfect as a pie or cobbler. You can also pair with many of our oils to make a light, tart vinaigrette.
Try this recipe: Tuscan Peach Chicken & Summer Salad, Grilled Peachy Caesar Salad
Note: We give Popular Pairings permission to arrive in regular packing materials. They decided a gift box just wasn't for them. If these are a token of happiness for a loved one, friend or family member, simply fill out the gift message section at checkout and we will be sure to include the note when these are shipped. Thank you!
Recipes you'll love
Grilled Peachy Caesar Salad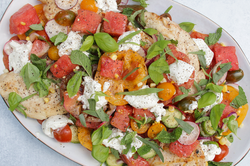 Tuscan & Peach Chicken Salad
Our customers say it best