Sesame Vinaigrette Pairing
Our fragrantly Roasted Sesame Oil has a rich nutty flavor that pairs effortlessly with the sweet heat from our Honey Ginger Balsamic! Just as they work together to infuse your food with an authentic taste and spice typically found in Asian cuisine, the sweet balsamic also helps to calm the powerful sesame oil. Powerhouse couple together but also pretty rad as cooking tools separately.
Try this recipe: Sesame Vinaigrette, Sesame Ginger Salad
Sesame Oil - With a very authentic taste and spice true to Asian cooking, this all-around oil is phenomenal in stir frys, delectable on chicken, and perfection with rice. Add a splash to your next hummus recipe, or incorporate it into your next turkey meatball recipe. From a simple salad dressing to homemade pork dumplings, this Sesame Oil will have you reaching back to use again!
Honey Ginger Balsamic Vinegar - Takeout fake-out with the amazing combination of our Honey Ginger Balsamic and Sesame Oil. Better for your waistline and with great taste. With no added salt, sugar, or fillers, you can enjoy your favorite takeout meals from the comfort of home!
Try this recipe: Sesame Vinaigrette, Sesame Ginger Salad
Note: We give Popular Pairings permission to arrive in regular packing materials. They decided a gift box just wasn't for them. If these are a token of happiness for a loved one, friend or family member, simply fill out the gift message section at checkout and we will be sure to include the note when these are shipped. Thank you!
Recipes you'll love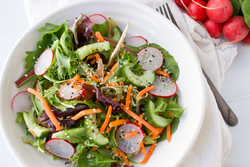 Sesame Ginger Salad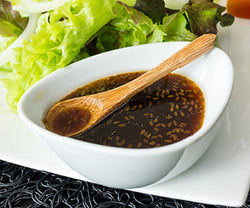 Sesame Vinaigrette
Our customers say it best