What We're Cooking This Season: Pesto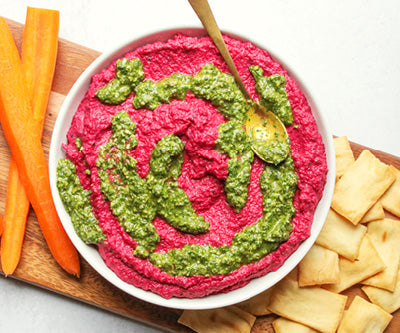 Get creative this summer by livening up your pesto game with alternative ingredients and your favorite Saratoga Olive Oil products!
Nothing says summertime like fresh herbs grown from the garden. Growing up, my mother and I would gather heaps of basil to make our own pesto all summer long. We started off with the classic; blending together our basil, buttery pine nuts, fresh lemon juice, garlic, grated parmesan, and liquid gold. Sorry, I mean Extra Virgin Olive Oil. 
As our basil grew and grew, we became bored with the basics and decided we needed to mix it up. We ventured out from pine nuts to much cheaper (and for the same flavor) walnuts, and wisely added sundried tomatoes to make a rich "Pesto Rosso." That summer, my go-to dinner became pasta in a creamy alfredo sauce with my Pesto Rosso deliciously stirred together. 
And we didn't stop there. Over the years, we added more vegetables and herbs to our garden, leading us to an abundance of cilantro we couldn't use fast enough. What did we do with it? We made pesto! A quick swap of lemon to lime juice, parmesan to cotija cheese, adding fresh jalapeno for a slight kick, while blending with Persian Lime Olive Oil to create the perfect zesty sauce for tacos, shrimp, rice, and steak! 
We've made a game of "What can we turn into pesto?" Do you have leftover carrot tops or beet greens? Extra arugula, spinach, or kale in your fridge? Is your garden being taken over by that mint plant you wanted for the occasional mojito? Turn it all into pesto, and have fun with it! Instead of pine nuts or walnuts, you can use hazelnuts; and even pepitas or sunflower seeds for your tree nut allergy friends! For those who are vegan or dairy free, swap the cheese for nutritional yeast so everyone can have some!
The fun doesn't end there. Besides trading out ingredients, swap out olive oil. Do you love a tangy heat? Use our Baklouti Green Chili or Red Cayenne Olive Oil to make a fiery pesto to top pizza. Brighten up a pesto made with spinach or kale by blending with our Oregano or Fernleaf Dill Olive Oil. Make a classic basil pesto bright and citrusy with our Meyer Lemon or even Blood Orange Olive Oil! 
Need some ideas? We have several awesome and creative pesto recipes for you to try for yourself:
Broccoli Rabe-Chipotle Pesto: Skirt steak marinade, drizzle over omelets, dip fajitas, the possibilities are limitless! This version of a typically Italian sauce is made from blanched broccoli rabe and our smokey Chipotle Olive Oil, giving this pesto a chimichurri-like feel!
Watermelon Salad with Arugula Pesto: A light and refreshing salad with superb flavor that's perfect for summer! Sweet watermelon and cantaloupe are tossed together with fresh burrata cheese and salty prosciutto. Garnished with an arugula pesto blended together with our herby Fernleaf Dill Olive Oil and crisp Peach Balsamic Vinegar, this dish marries sweet with savory in a new and invigorating way!
Cilantro-Lime Pesto: Tired of regular ol' pesto? Try it with cilantro instead! This simple recipe gets a zesty spin when you swap the basil for cilantro, parmesan for cotija cheese, and use our ever-fresh Persian Lime Olive Oil! The pesto is full of bright and refreshing character (you may just find yourself licking it right off the spatula)! Perfect for marinating shrimp, fish, and chicken, or drizzled on top of rice!
Beet Hummus & Pesto: Brighten up your appetizers with this slightly sweet and certainly tasty take on a classic hummus. Did you know? You can turn your beet greens into an incredible pesto! Swap the basil for your beet greens, you'll never know the difference!
Pesto Genovese: A classic pesto that can be used to compliment a variety of dishes. Try it with pasta, roasted potatoes, panini sandwiches, or with cheese and a fresh baguette!
PRO TIP: To enjoy fresh pesto all year round, freeze leftovers in ice cube trays! Transfer to a ziploc bag labeled with the date and what type of pesto you made!