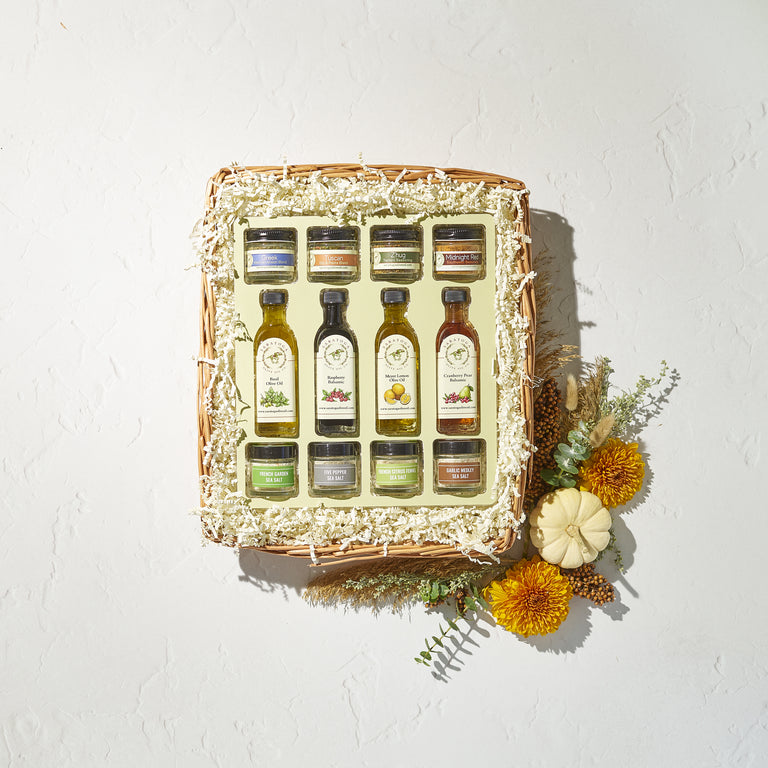 Salad Sampler
Just as we are tempted with sunny days and outdoor adventures with the arrival of Spring and Summer, we also eagerly anticipate the fresh harvest of seasonal fruits and bountiful vegetables. From crisp greens to chilled macaroni, the best way to indulge in this delicious produce is to pair them with our newest collection, the Salad Sampler. The sun kissed flavors of the fruity balsamics dance gingerly amongst the exotic blends of Gourmet Sea Salts and Spices.
Products Included:
60mls: Basil Olive Oil, Meyer Lemon Olive Oil, Cranberry Pear Balsamic, Raspberry Balsamic
Spices (.5oz): Greek Seasoning, Z'hug Seasoning, Tuscan Seasoning, Midnight Red Seasoning
Salts (2oz): French Garden Sea Salt, Five Pepper Sea Salt, French Citrus Fennel Sea Salt, Garlic Medley Sea Salt
There is just something about the warm summer nights that have us yearning for get-togethers, good music, and fascinating conversations. Let us help provide the perfect accompaniments with this friend-approved collection. Bring this bundle along to the next party, or gift to the hostess that seems to have it all. You too can be dubbed "Salad Superstar."
Olive Oil and Balsamic Vinegar Bottles (60mls): 
Basil Olive Oil: The peppery bite of freshly picked basil melts with the creaminess of the cold-pressed Koroneiki olives.
Meyer Lemon Olive Oil: Made by crushing and cold pressing the pulp from fresh lemons and olives together, this EVOO has a vigorous, zesty taste that you will not soon forget.
Cranberry Pear Balsamic: Enjoy all the crisp, clean, and tangy New England flavors all year long with this fruity, white balsamic vinegar
Raspberry Balsamic: A perfect harmony of sweet and tart flavor, our Raspberry Balsamic Vinegar combines the natural flavor of fresh, ripe raspberries with our 18 year old traditional balsamic.
Spices (.5oz):
Greek Seasoning: Greek oregano, Tellicherry black pepper, Spanish rosemary, and Himalayan Pink Sea Salt are in cahoots with fresh basil, garlic, parsley, thyme and nutmeg to bring you a distinctive taste of the Mediterranean. Add this deliciousness to your next dish or meal and let the blend of herbs and spices transport you to a breezy lunch spot overlooking the blue and white landscape.
Z'hug Seasoning: Z'Hug is a full-flavored herb seasoning with a wonderful fresh flavor enhanced by a hint of warmth from the Turkish Marash pepper and a slightly citrus finish. You do not want to miss this amazing Yemen spice blend made with Turkish Marash pepper, Himalayan Pink Sea Salt, Tellicherry black pepper, coriander, roasted garlic, cardamom, caraway, lemon salt, parsley, and cumin.
Tuscan Seasoning: From the rolling countryside to the majestic architecture, Tuscany is the perfect place to enjoy gorgeous views, spectacular history, and the finest foods. Our Tuscan Seasoning marries fresh oregano, rosemary, marjoram, and parsley. When you couple this with a generous foundation of Himalayan Pink Sea Salt, you have the perfect all-purpose blend to savor.
Midnight Red Seasoning: Make no mistake, this is our number one customer must have! This coordinated effort of unity by Greek Oregano, Himalayan Pink Sea Salt, Tellicherry black pepper, Aleppo pepper, and Hungarian paprika is flawless. Not to be left out, minced onion, cumin, garlic, crushed red pepper, chipotle Meco, and smoked paprika join in on the party too.  What you are left with is a robust, slightly hot seasoning blend destined for greatness.
Gourmet Sea Salts (2oz):
French Garden Sea Salt: Our delicious French grey sea salt is delicately woven together with a bouquet of fresh herbs and spices. One of the best cooking seasonings available, the garlic, bell peppers, and onion add extra flavors that will enhance and elevate any meal.
Five Pepper Sea Salt: Wave goodbye to your old salt and pepper shakers and say hello to this gourmet blend of natural sea salt and five spectacular chef-approved peppers: Tellicherry, Pink, Green, White, and Jamaican.
French Citrus Fennel Sea Salt: The bright citrus flavor of granulated orange peel shines throughout the extraordinary blend of fennel seed, coriander, and white peppercorns. Our natural French grey sea salt boasts delicate salt crystals that stand out in meat rubs but can be ground down finer for an elegant finishing salt.