Steve's Story - And… they're off!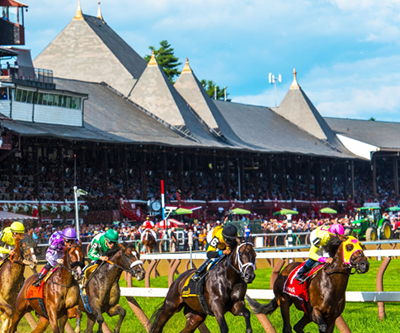 Having lived my entire life near Belmont Park, Monmouth Park, and Saratoga Race Course, I have heard the call "And they're off!!" for as long as I can remember, indicating the thoroughbreds leaving their gates at the start of a race. After all those years, one might think I am a horseman following the races. Truth be told, I love horses and the excitement around the racing, but I am not at all versed in the art of "playing the ponies."
There is just something magical about walking through the paddock prior to a race, seeing all the different silks and numbers of the jockeys, noticing the various sizes and stature of the thoroughbreds, and associating them all with different trainers, owners, and stables of origin. I have never needed to be an expert in the sport to participate in all that it offers and even take a chance at a race or two. While I rarely win due to my propensity to go for the long shots, I always walk away with a wonderful experience and a joyful memory that compels me to return.
The Saratoga Olive Oil Company metaphorically captures that same aura of the racetrack in many ways. Our guests range from seasoned professional chefs to amateur "foodies" and all ages of folks are drawn in by the shop layout and the interactive experience. As they proceed around the horseshoe-shaped lineup of EVOOs, flavored oils, balsamic vinegars, sea salts, and spices, some are compelled to taste, or as Saratogians might say, "bet" based upon different drivers.
Some choose by a number around the EVOO bio phenyl count. Some are drawn to oils from a region of origin such as Spain, Greece, or Italy. Some tastes based upon a name or a color such as white balsamic vinegar, black truffle oil, Baklouti Green Chili, or Hawaiian Alaea Red Sea Salt. And some just always bet on the favorites, such as Tuscan or Garlic Olive Oil matched with Fig or Sicilian Lemon Balsamic Vinegar. And, of course, we have gift packages titled Daily Double, Trifecta, Homestretch, and Winner's Circle, to name a few.
After 15 months of New Yorkers sheltering in place, mask-wearing, social distancing, and facing limitations everywhere, Andrew Cuomo, the Governor of New York state announced on June 15 the immediate lifting of the Covid-19 restrictions. Ironically, this comes almost exactly one month prior to the July 16 opening day at the Saratoga Race Course. There is a renewed energy and excitement pouring through this town and right into our shop that is infectious and near impossible to contain.
Suddenly, "And they're off!!" means much more than the start of a horse race. Rather, it is a starting call to a new life where masks can be dropped, hands can be shaken, hugs can be exchanged, and smiles can once again be seen in our shop while tasting different products imported from other regions of this world. Ironically, that same excitement when a pack of horses is nearing the finish line is now rushing down Broadway. And here is a tip that is a sure bet: Every person that comes into the Saratoga Olive Oil Company, regardless of what is tasted or purchased, will leave here a winner! This I can guarantee.