Bourbon Maple Balsamic Vinegar
The rich aroma of maple syrup takes an unexpected turn, joining forces with the subtle notes of barrel-aged bourbon. Make room for a new game-changer in your kitchen!
Get ready to embark on a taste adventure like no other as the velvety sweetness of maple syrup intertwines with the allure of oaky barrel-aged bourbon. From the first drizzle, you'll discover Bourbon Maple Dark Balsamic Vinegar's versatility. Turn dishes into taste sensations, add flair to brunch, and make meats memorable with a splash of pure sweet magic.
Start your day off right! Pour it over pancakes, waffles, and French toast for a sweet indulgence.

Flavor Fiesta Alert: Add this to our

Balsamic Glazed Pork Tenderloin

recipe.

Pair it with grilled pineapple and savor the vibes bite after decadent bite.

Pour it into your next

Blood Orange Salad

to get a sweet, earthy, and a little bit wild salad dressing.

Turn the most brussel sprout skeptic into a fan with a drizzle.

The perfect partner-in-crime for our

Butter Olive Oil

! Think salty and sweet all over your mouth.

Mix it with our Ginger Olive Oil and your taste buds will thank you with a standing ovation!
Is your mouth watering yet, or should we turn up the flavor excitement even more?

All of our balsamics are aged in wood barrels for up to 18 years. They are naturally free of any sugars, thickeners, and artificial ingredients.

Ingredients:
Cooked grape must, wine vinegar, natural flavors, naturally occurring sulfites
Frequently bought with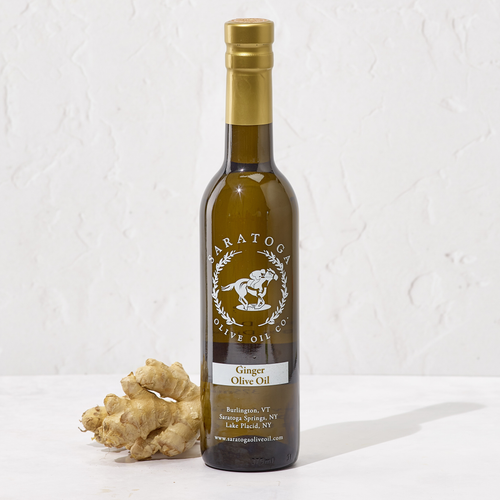 ---
Ginger
Olive Oil
$13.95
Ginger Olive Oil
---
Imagine the bold kick of ginger fruitiness and mild spiciness joining forces with the smooth charm of olive oil – it's like a taste bud party that's about to become your kitchen's favorite!
---
---
---
Blood Orange
Olive Oil
$15.95
Blood Orange Olive Oil
---
Whole, perfectly ripened blood oranges are crushed with fresh olives to make a beautiful Blood Orange Olive Oil that is fused with freshness and bright with flavor.
Barbara Braidwood, owner of Saratoga Olive Oil, loves using Blood Orange Olive Oil as a replacement for vegetable oil in baked goods.
---
---
---
Butter
Olive Oil
$13.95
Butter Olive Oil
---
Being natural, vegetarian, and dairy free has never tasted so good. Smooth, silky, buttery goodness that tastes identical to the real thing!
---
---
Our customers say it best