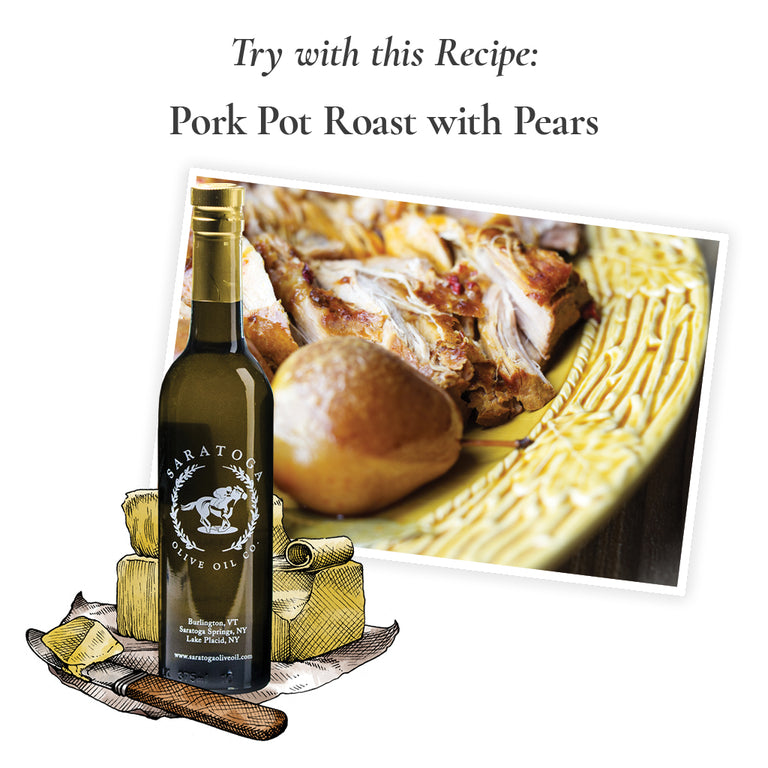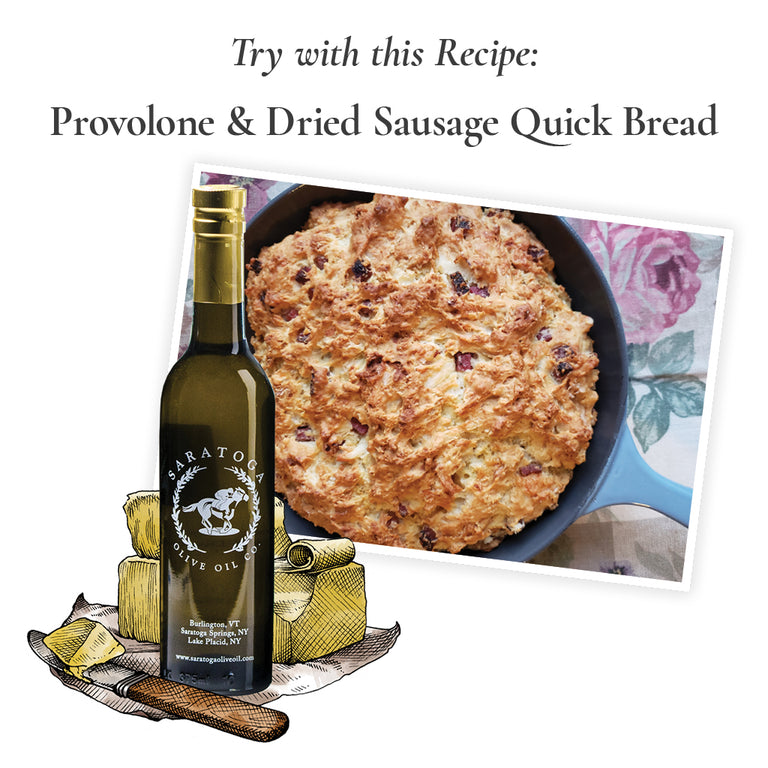 Butter Olive Oil
Being natural, vegetarian, and dairy free has never tasted so good. Smooth, silky, buttery goodness that tastes identical to the real thing! Savor the buttery brilliance without a second thought about calories with our Butter Olive Oil. This 'oil-mazing' concoction merges the heart-healthy benefits of olive oil with the decadent delight of butter. For those in the pursuit of taste without compromise, this is your golden (or should we say buttery?) ticket!
Product Description
Ingredients
Recipes
From drizzling to sizzling you can swirl our Butter Olive Oil into your favorite dishes, and witness the magic unfold. Use our Butter Olive Oil to replace any recipe that happens to call for our liquid twin. Our butter infused olive oil is a wonderful, healthy alternative to butter in baking. 1 teaspoon of butter = 3/4 teaspoon of Butter Olive Oil. So, the next time you reach for that butter stick, remember there's a better, brighter, and 'butterier' alternative waiting for you. When the movie theater butter smell starts wafting throughout your kitchen, you can guarantee your family will come running. And when it's time for a midnight snack, know that our Butter Flavored Olive Oil will light up your taste buds, not your calorie count. Made from natural plant extracts, our Butter Olive Olive will be the next staple you keep on your countertop. No guilt, all taste.  
Perfectly popped popcorn

Kid tested and approved

EGGcellent way to start your day

Cakes, cookies, and treats will thank you

Saute, bake, broil, and seer to your heart's content

Classic shrimp scampi with no guilt!

Hollandaise sauce
Dive deep into flavor waves without drowning in dairy, thanks to our Butter Flavored Olive Oil. Crafted for the conscious connoisseur, with our Butter Olive Oil, there's no dairy dilemma. Just pure, unadulterated delight.
All Saratoga Olive Oils are Kosher Certified.
Ingredients: Extra Virgin Olive Oil, Natural Flavors
Frequently bought with
---
Vermont Maple
Dark Balsamic Vinegar
$13.95
Vermont Maple Balsamic Vinegar
---
In the vast world of vinegar, our Vermont Maple Balsamic Vinegar stands tall and proud, much like the maple trees that grace Vermont's...
---
---
---
Traditional 18-Year
Dark Balsamic Vinegar
$13.95
Traditional 18-Year Balsamic Vinegar
---
Every year of its aging journey adds layers of depth, creating a masterpiece that's much more than just vinegar. This luxurious condiment is...
---
---
---
Cinnamon Pear
Dark Balsamic Vinegar
$13.95
Cinnamon Pear Balsamic Vinegar
---
Most notably enjoyed on the crisp fall and cold winter days, our Cinnamon Pear Balsamic Vinegar is excellent all...
---
---