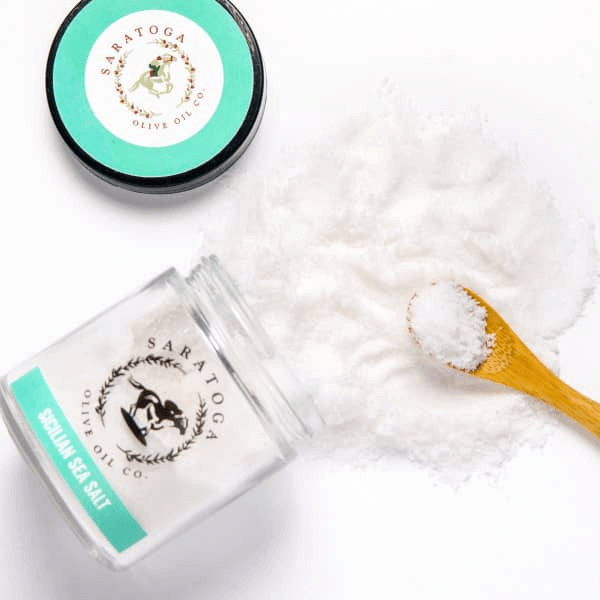 Sicilian Sea Salt
Sea, sun and wind are the only ingredients used to obtain this unrefined sea salt with a delicate, sweet taste. Harvested by hand along the western Sicilian coast, from Marsala up to Trapani, lies famous salt pans located in natural reserves. Here is where this artisan salt is extracted by the natural evaporation of seawater. With a truly remarkable taste, you will find yourself appreciating the versatility of it when you are cooking, baking, and enjoying a meal.
Product Description
Ingredients
Recipes
Sicilian Sea Salt Culinary Suggestions:
Orzo pasta, lemons, and grilled shrimp

Sicilian sea salt caramel cake

Pancetta wrapped asparagus

Sea Bass with Sicilian cherry tomato relish

Vanilla ice cream with sea salted chocolate sauce

Mushroom arancini 
Proudly rocking the Saratoga Olive Oil Company Emblem, each Sea Salt comes in a clearly labeled, sealed glass jar. The wide opening of the jar enables the chef to easily grab a pinch of the salty goodness. Each jar has a product weight included on the back label. More flavor, less rubbish. 
Ingredients: Natural Sea Salt