Crispy Brussels Sprouts with Whipped Ricotta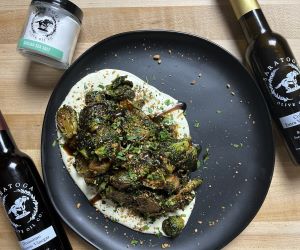 This dish is amazing and combines so many delicious flavors. The brussels sprouts offer their own unique sweet and nutty flavor, which is balanced by the acidic balsamic vinaigrette to create a final delicious taste. Served on top of a creamy, salty whipped ricotta and topped with crunchy hazelnuts and garnished with a sprinkle of parsley, voilà!
Brussels Sprouts are such a great autumn and fall vegetable. Although you can buy them year round from the grocery store shipped from Mexico or California, the season here in the North East is at the end of summer and into fall. Check out your local farmers market or ask your grocery store if any of their produce is from local farms to get your hands on some fresh Brussels Sprouts. The flavor is noticeably sweeter, they are a more vibrant green, and they offer a more crisp bite.
Products used: Denissimo Balsamic Vinegar, , Sicilian Sea Salt