Chicken Katsu with Cucumber Kohlrabi Kimchi & Spicy Mayo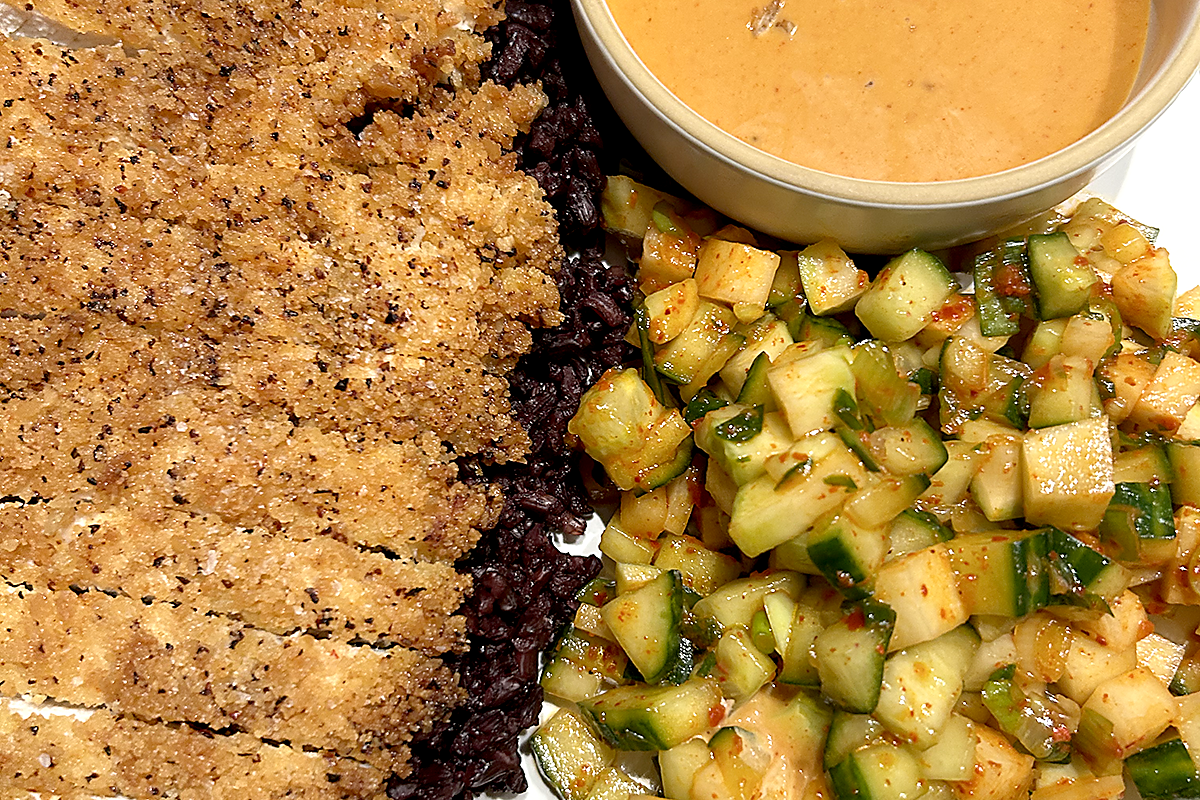 Chicken Katsu is a traditional Japanese dish that consists of a breaded and deep-fried chicken cutlet. The chicken is pounded thin and then deep-fried until golden brown and crispy to ensure it has the perfect crunch. This dish is an explosion of flavors and textures! The chicken is a star in this dish. It is coated in a flavorful mixture of flour, tapioca starch, ginger, and Chinese five spice, dipped in eggs and panko bread crumbs. The result is a juicy and tender chicken with a crispy exterior that will have you coming back for more! 
This chicken katsu is elevated with a spicy mayo that adds a tangy kick to the savory chicken. The mayo is made with Kewpie mayo, soy sauce, gochugaru, sweet chili, and a deep, flavorful sesame oil. It is easy to make and perfect for dipping!
The chicken and spicy mayo are complimented with a refreshing and tangy cucumber kohlrabi kimchi. This kimchi is made with sliced scallions, garlic, gochugaru, rice vinegar, sesame oil, and Soyu Cucumber White Balsamic Vinegar. The cucumbers and kohlrabi add a fresh crunch to the dish, while the tangy and spicy flavors of the kimchi complement the chicken perfectly.
This dish is a complete meal that will satisfy your taste buds and impress your guests. Serve it with cooked jasmine rice or black Japonica rice. Cut the chicken into thin strips, and arrange it on top of the rice. Drizzle some spicy mayo on top, add a serving of cucumber kohlrabi kimchi on the side and enjoy the explosion of flavors and textures in every bite!
Products used: , Sesame Oil, Sicilian Sea Salt