What We're Cooking This Season: Pineapples!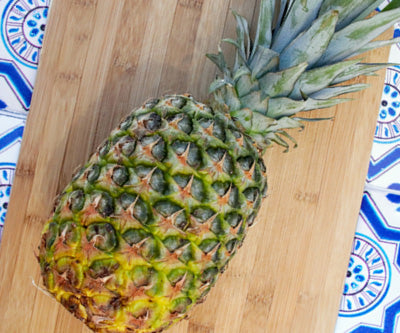 As the face of tropical fruit, pineapple's tang and appealing sweetness is the epitome of summertime cooking. Make pineapple the star in everything from drinks and desserts, to outdoor dinners! Forget what the pineapple-on-pizza haters say – it belongs in savory dishes; and drives them to shine. Pineapple in fried rice? A classic. On a glazed ham? Mouth-watering and timeless. In a spicy salsa with chips or on a fish taco, in barbecue sauce for chicken wings or pork chops, the options are boundless and unexpectedly sweet. 
Did you know: Pineapple contains a type of enzyme (Bromelain) that helps tenderize meat? This enzyme makes it a perfect ingredient for marinades. Pair fresh pineapple juice with our earthy and potent Garlic Olive Oil to make a heavenly marinade for chicken, shrimp, or your favorite fish. For even more zing, combine pineapple juice with our fragrant Cilantro & Roasted Onion Olive Oil, as a dressing in cucumber salad. Want to take a walk on the spicy side? Combine pineapple with our Chipotle or Red Cayenne Olive Oil for some serious sweet-heat!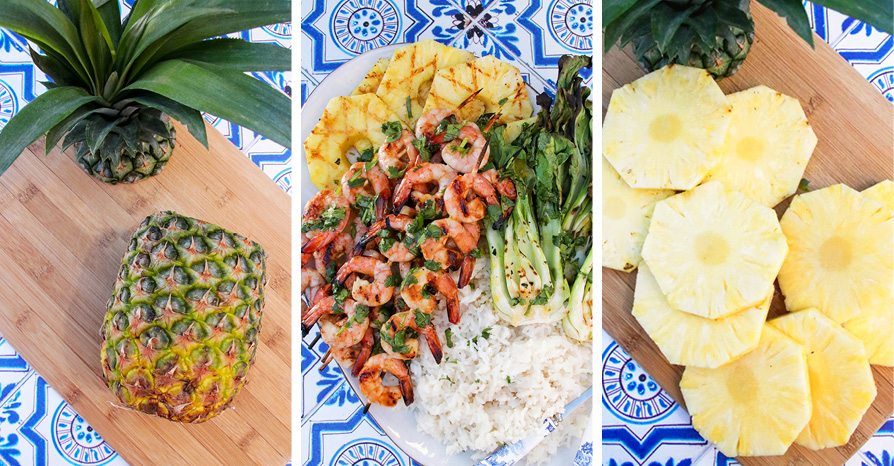 Try brushing sliced pineapple rounds with flavorful Olive Oil like our citrusy Persian Lime or fiery Baklouti Green Chili, before tossing on a hot grill to watch them beautifully caramelize. Finish those grilled beauties by sprinkling on a pinch of our gourmet sea salt (we loved the Lime and Habanero!) Enjoy as-is for a sweet, summertime side dish, or top with a scoop of vanilla or coconut ice cream for a refreshing yet decadent dessert.
If you're looking for that fresh pineapple flavor without having to break down a whole pineapple, or want to add a tropical essence to everyday drinks, try our bright and sweet Golden Pineapple Balsamic Vinegar. Turn otherwise bland seltzer into a tropical treat, add a twist to your basic mimosa, and drizzle liberally over fresh fruit salad!
Combine our Golden Pineapple Balsamic with Madagascar Black Peppercorn or Basil Olive Oil for a fun and light dressing on a salad with grilled chicken or tofu, tomatoes and avocado! 
Try our Golden Pineapple Balsamic in these two great summer recipes:
Pineapple Grilled Shrimp – The epitome of summer grilling, this tropical shrimp carries a sweet and spicy flavor from our kickin' Harissa Olive Oil, and tangy Pineapple Balsamic. A quick and easy recipe that will make your summer season complete, plus keep your guests and family happily stuffed!
Taylor's Pineapple Salsa – A more colorful way to chip and dip, this Pineapple Salsa is packed with fresh, sweet and zesty flavor! Pineapple adds a wonderful sweet acidity, but it's our Mango Coconut Agrodolce that makes this appetizer extra special. From local Chef David Britton, our agrodolce is a gourmet balsamic with a gorgeous sweet and sour umami that makes your taste buds tingle!