Chicken Piri Piri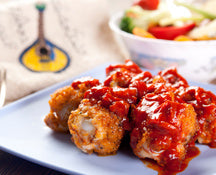 Made with Garlic Olive Oil and Black Currant Balsamic.
Products used: , Garlic Olive Oil
Ingredients
8 Red Birds-Eye Chilies (Thai-chillies), seeds and ribs removed, chopped
½ cup Lemon juice
1 Tbsp chopped Cilantro
1 Tbsp chopped Parsley
2 Garlic cloves
½ cup SOOC Garlic Olive Oil
SOOC Black Currant Balsamic, to taste
4 Chicken Breast, cooked

Directions
Combine everything, except the Garlic Olive Oil, in a blender and puree.
Slowly add Garlic Olive Oil at low blender speed.
Use sauce to dress grilled or sautéed chicken.
Garnish: Dress thinly sliced cabbage with Black Currant Balsamic and Garlic Olive Oil.