Homemade Pita with Mild Varietal EVOO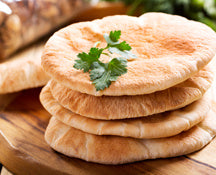 Ingredients
2 cups Warm water (105-115℉)
1 pack active dry Yeast
2 Tbsp Honey
½ cup Mild SOOC Extra Virgin Olive Oil
½ cup Plain Yogurt
2 Tbsp unsalted Butter
6 cups All purpose Flour
1 cup Whole Wheat Flour
¼ cup Semolina Flour (fine)
SOOC Himalayan Pink Sea Salt, to taste
Dried Oregano, to taste

Directions
In a bowl of a stand mixer, combine warm water, yeast, and honey. Whisk well and let stand for 10 minutes to allow yeast to bloom. Stir in ½ cup Extra Virgin Olive Oil, yogurt, and melted butter.
In a large bowl, whisk together the 6 cups of bread flour, whole wheat flour, semolina flour, and 1 Tbsp Himalayan Pink Sea Salt. Add the yeast mixture and mix with the dough hook on low speed or with a wooden spoon until a dough forms. Knead with dough hook or with hand for 5 minutes. Remove dough hook and cover the bowl with plastic wrap. Let rise in a warm place until doubled in volume, about 1 hour.
Divide the dough into 12 equal pieces and shape into balls. Place onto parchment-lined baking sheet and dust lightly with flour. Cover with a dish towel and let rise in a warm place until double in volume, about an hour.
Preheat a gas grill on medium low heat; line another baking sheet with parchment paper and brush parchment lightly with Extra Virgin Olive Oil. On a lightly floured surface, flatten one ball into a thick disk. Using a rolling pin, gently stretch disk into 6-inch round, ¼ inch think (no thinner).
Brush round with Extra Virgin Olive Oil, then sprinkle with dried oregano and Himalayan Pink Sea Salt. Transfer the round to the baking sheet. Repeat with the remaining balls of dough, stacking the flattened, seasoned rounds on top of each other in 2 stacks (so they are oiled and seasoned on both sides by contact). Let rest for 15 minutes to allow the gluten to relax.
In batches, place the rounds on the grill and cook slowly; the bread should puff slightly, the bottoms coloring lightly, and develop grill marks after 2 to 3 min longer. Transfer to wire rack to cool for 15 minutes before cutting into wedges.