Honey Vinegar Glazed Green Beans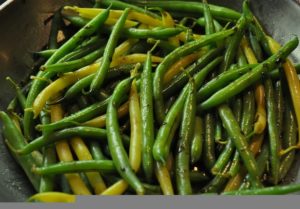 While visiting our stores, many customers will ask for recipe inspiration when they discover a new oil or vinegar flavor they enjoy. We're always happy to offer suggestions and share our own personal favorites. After all, we each do a lot of experimenting in our home kitchens and are always exchanging cooking tips. So it only seemed logical to share them with all of you on our blog, too!
Staff from the Burlington shop recently gathered to create, cook, and enjoy a meal together using products from Saratoga Olive Oil Co. and many local food products.
Our side dishes were inspired by our recent staff farm share vegetable pick up. Our wonderful farmers at Full Moon Farm in Hinesburg, Vermont provided us with sweet corn and lots of good looking green beans (and tons of other fresh veggies too!) We used Organic Garlic Olive Oil, 18 Year Traditional Balsamic Vinegar, and Green Mountain Bee Farm Autumn Harvest Honey in our recipe.
Level up your everyday green beans with these Honey Vinegar Glazed Green Beans. Try these Honey Vinegar Glazed Green Beans for your Thanksgiving dinner or dinner party
Products used: Garlic Olive Oil, Traditional 18-Year Balsamic Vinegar