Steamed Clams with Fennel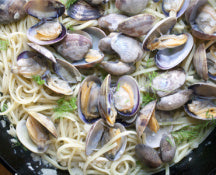 Ingredients
4 Tbsp SOOC Mild Extra Virgin Olive Oil
3 Garlic cloves, smashed
5 lbs little neck Clams, scrubbed
⅔ cup dry White Wine
4 Tbsp chopped Fennel fronds
½ tsp SOOC French Citrus Fennel Sea Salt
½ tsp ground black Pepper
2 Baguettes of fresh French Bread

Directions
In a large Dutch oven, heat Extra Virgin Olive Oil to medium high. Sauté garlic cloves until fragrant, about 2 minutes. Remove garlic; add clams, wine, and fennel. Cover and cook until clams open, about 5-7 minutes.
Discard unopened clams. Sprinkle with French Citrus Fennel Sea Salt and pepper. Put in bowls and drizzle with Extra Virgin Olive Oil.
Serve with French bread for dipping.