Strawberry Balsamic Cupcakes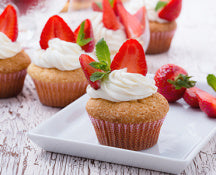 Ingredients
For Strawberry Purée:
1 cup Strawberries, fresh or frozen
¼ cup Sugar
2 Tbsp SOOC Strawberry Balsamic Vinegar
1 Tbsp Milk
For the Batter:
3 Tbsp Butter
¼ cup Sugar
2 Eggs
½ tsp Vanilla Extract
¾ cup Flour
¼ tsp Baking Soda
½ tsp Baking Powder
1 pinch Salt
For Frosting:
1 Tbsp Butter
2 oz Cream Cheese
1 cup Powdered Sugar
1 Tbsp remaining Strawberry Purée

Directions
For the Strawberry Purée- Remove and discard the strawberry stems. Cut the strawberries into quarters and place in a small saucepan. Mix in with sugar and let sit for 15 mins. Add Strawberry Balsamic, and bring to a simmer on medium heat for 15 mins. Sauce should thicken as strawberries begin to break down. Remove from heat and puree with a stick blender. Let cool and stir in milk.
For the batter- Preheat oven to 350℉. Beat butter and sugar together until fluffy. Mix in eggs and vanilla extract, beating for about 30 seconds. Stir in half of strawberry puree until combined. In a separate bowl, mix together flour, baking powder, baking soda, and salt. Add half of flour mixture to the batter and stir until just incorporated. Add half of the remaining strawberry puree (reserve about 1 Tbsp for the frosting), stirring to incorporate. Add remaining flour mixture. Mix until just combined; be careful not to over beat. Line a muffin tin with cupcake cups; divide batter evenly by filling each cup about ¾ full. Bake for about 20 mins, or until a toothpick inserted in the center comes out clean. Let cool before frosting.
For the frosting- Beat cream cheese and butter together at medium speed until creamy. Add ½ cup powdered sugar along with the remaining strawberry puree, and beat until combined. Gradually beat in the remaining powdered sugar until frosting reaches spreadable consistency. Frost cooled cupcakes.