Cooking with Sea Salt Trios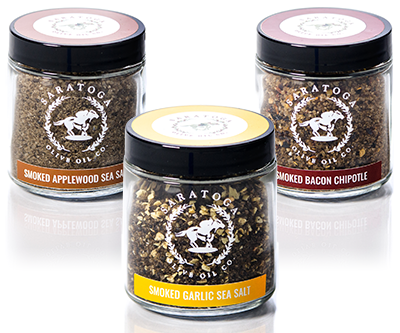 Smoked Garlic, Smoked Applewood, Smoked Bacon Chipotle – Our smoked sea salts are full-bodied with fantastic, robust flavor. Smoked over applewood timber and Alderwood with minced garlic and chipotle peppers. Add to your morning eggs, in dipping sauces, with fish and seafood, or to your roasted veggies!
Garlic, garlic, and more garlic!!!!! This sea salt trio is a must-have for all Garlic Lovers. Our garlic sea salts can be used for just about everything!
Calling all Spice Savants: This fiery trio packs a delicious, salty punch. Brighten up your next BBQ, kick up the rim of your spicy margaritas, zest up your chili!
For those with a sophisticated palate, we've gathered together our more gourmet sea salts to elevate your cuisine and your flavor profile!
For those who expect the best of the best, we've gathered together our most popular and versatile sea salts! Grab these flavors while you can; they fly right out of here!