Buttery Whole Wheat Banana Bread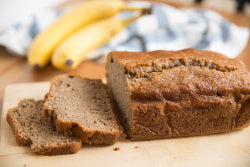 Our Butter Olive Oil makes this a perfectly rich, healthy breakfast or snack!
Products used: Butter Olive Oil
Ingredients
1 cup All-Purpose Flour
½ cup Whole Wheat Flour
1 tsp Salt
2 tsp Baking Powder
1 tsp Cinnamon (optional)
6 Tbsp SOOC Butter Infused Olive Oil
⅔ cup Sugar
2 large Eggs, lightly beaten
1 cup mashed very ripe Bananas (about 2)
½ cup toasted chopped Walnuts or Pecans (optional)

Directions
Preheat oven to 350°F. Thoroughly grease a standard loaf pan with 1 tsp of Butter Olive Oil.
In a large bowl whisk all-purpose flour, whole wheat flour, salt, baking powder and cinnamon (optional) together thoroughly.
In a separate bowl, blend remaining Butter Olive Oil, sugar, and eggs together.
Fold in mashed bananas and nuts (optional) until combined.
Combine the wet ingredients in the bowl with the dry ingredients until just incorporated - do not over mix. Scrape the batter into pan and spread evenly.
Bake until a toothpick inserted in the center comes out clean, 50-60 minutes.
Let cool in the pan on a rack for 5-10 minutes before unmolding to cool completely on the rack.