Chipotle Olive Oil Poached Salmon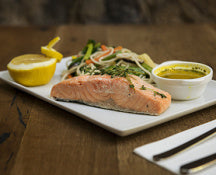 A moist salmon fillet topped with an aioli and poached vegetables.
Products used: , Chipotle Olive Oil
Ingredients
½-1 cup SOOC Chipotle Infused Olive Oil
1 pint Heirloom Cherry Tomatoes
3 large Shallots, sliced
8 cloves Garlic
3 fresh or dried Chili Peppers (to taste)
2 lbs Salmon fillets with skin on
2 large Egg Yolks
1 Tbsp Mustard
Chopped fresh herbs such as Cilantro, Basil, Oregano, or Parsley
Salt and pepper to taste
3-4 Tbsp SOOC Champagne Balsamic Vinegar

Directions
Place a deep sided sauté pan on low heat. Add enough Chipotle Olive Oil to a depth of about ½ inch. Add garlic, shallots, tomatoes, and chili; steep for about 5-7 minutes.
Add the salmon to the oil. Add more oil if necessary so that all ingredients are covered. Cook over low heat until salmon reaches about 110°F when a meat thermometer is inserted into the thickest part. The oil should never boil or simmer. Remove the pan from the heat. Spoon out about 1 cup of the Chipotle Infused Olive Oil and a couple of garlic cloves. Reserve for later. Cover pan and allow to cool slightly.
To make the aioli: Place the yolks in the bowl of a food processor. Add the mustard, salt, and pepper. Pulse to combine the ingredients. Add the 2 reserved garlic cloves and half the Champagne Balsamic; pulse again. With the machine running, very slowly drizzle in the reserved oil. Keep adding the oil until the mixture thickens to the consistency of a mayonnaise. Add the remaining Champagne Balsamic and check the seasoning. Transfer the mixture to a bowl and reserve. Chill slightly.
Remove the salmon with a slotted spoon or spatula and place on a serving plate. Top the salmon with some of the poached vegetables and some of the aioli. Finish with the herbs of your choice.