Gourmet Garlic Scallops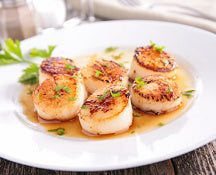 Ingredients
2 Tbsp SOOC Garlic Infused Olive Oil
5 Tbsp Butter, divided
1½ lb Sea Scallops, rinsed and drained
SOOC Sicilian Sea Salt, to taste
Fresh ground Pepper
½ cup dry White Wine
Zest of 1 Lemon
2 Tbsp fresh Tarragon, chopped

Directions
Heat 1 Tbsp Garlic Olive Oil and ½ Tbsp butter in a large skillet over medium heat. Season scallops with salt and pepper.
Place half of the scallops in the skillet without crowding; cook until browned, about 2-3 minutes on each side. Remove scallops to a plate and repeat for the other half.
When all of the scallops are cooked, wipe out skillet and return to medium heat. Pour in wine and boil for 1-2 minutes, until reduced to about 2 Tbsp. Reduce heat to low and whisk in remaining 4 Tbsp butter. Butter should soften to form a smooth sauce. Stir in Sicilian Sea Salt, lemon zest, and tarragon.
Pour sauce over scallops and serve on a bed of mashed potatoes.