Honey Ginger Mulled Cider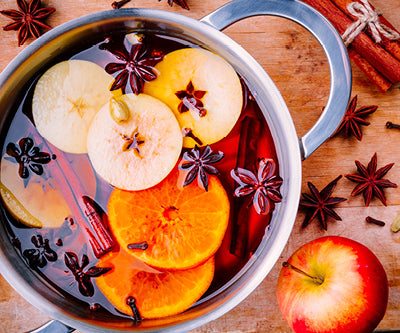 Ingredients
½ gallon Fresh Apple Cider
½ cup SOOC Honey Ginger Balsamic Vinegar
¼ cup Mulling Spices
1 Navel Orange, sliced (ends discarded)
1 Apple, sliced and seeds removed
Cheesecloth and kitchen twine, or Muslin bag

Directions
Pour cider into a large pot for the stove top. Add Honey Ginger Balsamic Vinegar and stir.
Cut a square of cheesecloth large enough to hold the mulling spices. Gather ends and tie with kitchen twine and add to the pot to infuse flavor. Add fruit slices.
Bring to a near boil and reduce to simmer for 30 minutes.
Remove spice bag, ladle into mugs and enjoy!
Note: For convenience, use a slow cooker set on high to heat through and reduce to low temperature to keep warm.