Meyer Lemon Tarts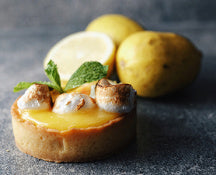 Ingredients
1 Tbsp Star Anise
9 oz Nilla Wafers, crushed
7 Tbsp SOOC Meyer Lemon Olive Oil
6 Egg Yolks
6 Meyer Lemons for zest
½ cup Meyer Lemon Juice
½ lb Butter
½ cup Sugar
6 Strawberries, fresh

Directions
For the dough: In a food processor combine all pie crust ingredients (Star Anise through Meyer Lemon Olive Oil) and blend until coarse. Press the "dough" into a pastry shell. Line the pastry shell with aluminum foil or parchment paper and fill with pie weights or raw short-grain rice. Bake for 20 minutes at 375°F, then lift an edge of the foil. Continue to bake until the shell is golden, 7 to 10 minutes more. Transfer to a wire rack and let cool completely.
In a non aluminum saucepan over medium heat, combine the eggs, egg yolks, sugar, lemon juice, lemon zest, and butter. Cook slowly, stirring constantly with a heatproof rubber spatula, until the butter melts and the mixture is thick enough to coat the back of the spatula and leaves a clear trail when a finger is drawn through it, 7 to 8 minutes. Remove from the heat and strain through a coarse-mesh sieve placed over a bowl.
Spread the curd evenly in the fully baked tart shell and refrigerate until chilled, 2 to 3 hours. Combine all of the ingredients for the strawberries to macerate as a garnish. If using a tart pan with a removable bottom, let the sides fall away, then slide the tart onto a serving plate. Let stand at room temperature for 20 minutes before serving, to take the chill off. Makes one 9½-inch tart.