Middle Eastern Almond Hummus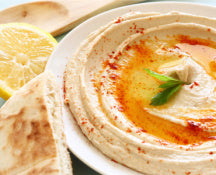 Our roasted almond hummus is a delicious alternative to hummus made with tahini.
Products used: , Sicilian Sea Salt
Ingredients
2 cups precooked Chickpeas
¼ cup toasted Almonds
3 Tbsp SOOC Roasted Almond Oil
Chili flakes, to taste
Juice of 1 Lemon
SOOC Sicilian Sea Salt, to taste
Freshly ground Pepper, to taste

Directions
Place chickpeas, almonds, Almond Oil, lemon juice, and chili flakes into a blender and blitz until smooth.
Add water to thin the mixture for desired consistency. Season to taste with Sicilian Sea Salt and pepper.