Shaved Asparagus Salad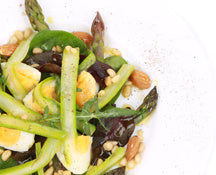 Ingredients
2 lbs Asparagus, bottoms removed and shaved thinly
4 oz Parmigiano Reggiano, shaved or grated
2 Tbsp toasted Pine Nuts and/or Almonds
¼ cup SOOC Meyer Lemon Olive Oil
2 Meyer Lemons, zested and juiced
2 tbsp Honey
1 Tbsp Dijon Mustard
1 lb Shallots, thinly sliced
1 cup SOOC Serrano Honey Vinegar
1 Tbsp Sugar
1 Tbsp Salt
1 tsp whole black Peppercorns
1 tsp whole Fennel Seeds
1 tsp yellow Mustard Seeds
4 Hard Boiled Eggs (optional)

Directions
Place shallots in a medium heat safe bowl. Bring remaining ingredients to a boil, stirring constantly, and pour over shallots. Cover and let sit for 20 minutes until cooled.
Dressing : Whisk together ½ lemon juice, zest, honey, and mustard in a small bowl.
Continue to whisk and slowly add the Meyer Lemon Olive Oil until combined.
Season with salt and pepper to taste.
Salad : Toss shaved asparagus and pickled shallots with dressing
Top with sliced hard boiled eggs (optional), toasted pine nuts, shaved parmigiano, and remaining zest.