Spring Pea Soup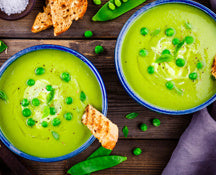 Ingredients
1 bag of frozen Peas (or 1 lb fresh Peas, shucked)
1 large bunch of Mint
1 cup Greek Yogurt, halved
SOOC Blood Orange Fused Olive Oil, to taste
SOOC Himalayan Pink Sea Salt, to taste

Directions
Bring a pot of water to a boil. Salt the water; blanch peas.
Turn off the heat and allow mint to steep in the hot water for 15 minutes.
Puree the peas in a blender and incorporate mint water until you reach desired consistency.
Place in bowls with a healthy dollop of Greek yogurt and finish with Blood Orange Fused Olive Oil.