Truffled Cauliflower Gratin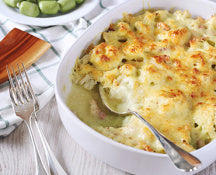 Ingredients
1 Large head Cauliflower, cut into florets
3 Tbsp Unsalted Butter
3 Tbsp All Purpose Flour
1 cup hot Milk
1 cup hot Half-and-Half
½ tsp freshly ground Black Pepper
1 cup freshly grated Gruyere, divided
½ cup freshly grated Parmesan
¼ cup fresh Bread Crumbs
Salt and Black Pepper, to taste
2 tsp SOOC White Truffle Oil

Directions
Preheat the oven to 375℉. Sprinkle the florets with salt and steam for 8 minutes until slightly tender but still firm.
In a heavy sauce pan over medium heat, melt the 2 tablespoons of butter. Gradually whisk the flour into the melted butter until no dry spots remain.
Pour the hot milk and hot half and half into the butter-flour mixture, whisking constantly until it comes to a boil. Continue whisking constantly for 1 minute until thickened and then remove from heat. Add 1 teaspoon of salt, fresh ground pepper to taste, 1 teaspoon of White Truffle Oil, ½ cup of the Gruyere, and ½ cup of Parmesan cheese.
Butter a 2-3 quart shallow baking dish or casserole. Place the drained cauliflower into the baking dish and pour the sauce evenly over the cauliflower. Combine the remaining tablespoon of butter with the remaining teaspoon of White Truffle Oil. Toss the butter and Truffle Oil with the bread crumbs and remaining ½ cup of Gruyere and sprinkle on top of the casserole. Sprinkle with more salt and pepper to taste. Bake for 25 to 30 minutes until golden the bread crumbs are golden brown and the casserole is bubbling.