Celebration Day Olive Oil Cake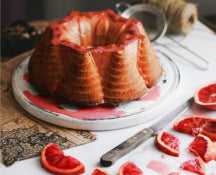 Ingredients
2½ cups Flour
1 tsp Baking Powder
½ tsp Baking Soda
½ tsp Salt
1 cup Olive Oil (Preferably Orange or Lemon, but a mild Varietal can be used)
2 cups Sugar
4 Large Eggs
1 tsp Vanilla
1 cup Greek Yogurt or Sour Cream
1 Lemon or Orange, Zested and Juiced (ONLY if a citrus fused oil is not used)
Powdered Sugar for garnish

Directions
Preheat oven at 350℉. Grease a 9x13 pan with olive oil and set aside.
Whisk together the flour, baking powder, baking soda, and salt in a bowl; set aside.
In a large bowl, cream together the olive oil, sugar, eggs, vanilla, lemon/orange juice and zest (if used) until well combined. Add in the yogurt or sour cream and flour and mix until well combined.
Pour the batter into to prepared pan and bake for 35-45 minutes, or until a toothpick inserted in the middle comes out clean. Cool the cake on a wire rack for 10 minutes, then remove from pan and cool completely.
Sprinkle powder sugar over the top of cake for garnish.