Rosemary Gougères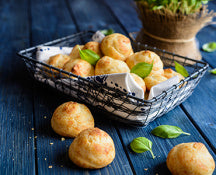 Ingredients
½ cup Water
1 Tbsp Butter
2 Tbsp SOOC Rosemary Fused Olive Oil
¼ tsp SOOC French Fleur de Sel Sea Salt
½ cup Flour
2 whole Eggs
¾ cup grated Gruyère Cheese

Directions
Preheat the oven to 425°F and prepare a baking sheet linked with parchment paper or a Silpat baking mat.
Heat water, butter, Rosemary Olive Oil, and salt in a saucepan until the butter is melted. Add the flour all at once and stir vigorously for 3 minutes. Remove to a separate bowl. Mix in the eggs one at time, then fold in the grated cheese.
Pipe or spoon the dough in cherry tomato-sized rounds on to the prepared baking sheet. Bake for 10 minutes and then turn the oven down to 375°F and bake for 20-25 minutes more until golden brown.