Shrimp and Rice in Green Masala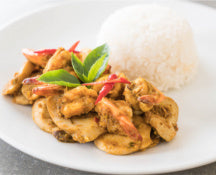 Ingredients
½ cup + 2 Tbsp SOOC Varietal Extra Virgin Olive Oil
3" piece of Ginger, peeled and grated
4 Garlic cloves, minced
½ Tbsp SOOC Jalapeño Balsamic Vinegar
½ Tbsp SOOC Coconut Balsamic Vinegar
8 Jalapeño chilis, seed and rib removed, chopped
1 tsp Cardamom seeds
1 tsp ground Turmeric
1 tsp Coriander seeds
2 Tbsp SOOC Premium White Balsamic
12-16 Jumbo Shrimp

Directions
Sauté ginger, garlic, and jalapeño over medium heat until garlic turns slightly brown.
Add remaining spices and sauté another minute or until fragrant.
Deglaze with Coconut and Jalapeño Balsamic and reduce by half.
Transfer to a blender, add Premium White Balsamic and blend to combine. On a low setting, slowly add remaining Extra Virgin Olive Oil to emulsify.
Quick sauté the shrimp. Serve with sauce.
Rice can be mixed with all other ingredients, or served on the side, depending on preference.