Coconut Lime Cod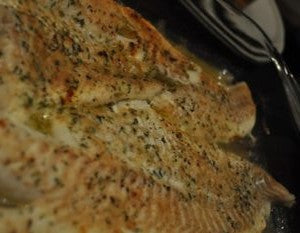 While visiting our stores, many customers will ask for recipe inspiration when they discover a new oil or vinegar flavor they enjoy. We're always happy to offer suggestions and share our own personal favorites. After all, we each do a lot of experimenting in our home kitchens and are always exchanging cooking tips. So it only seemed logical to share them with all of you on our blog, too!
Staff from the Burlington shop recently gathered to create, cook, and enjoy a meal together using products from Saratoga Olive Oil Co. and many local food products.
For dinner, we had baked cod, marinated in Persian Lime Olive Oil, Coconut Balsamic Vinegar, Himalayan Pink Sea Salt, and Chimichurri seasoning for a little extra kick. A citrusy, summery dish perfect for a summer dinner.
Products used: Persian Lime Olive Oil & Coconut Balsamic, Persian Lime Olive Oil, Coconut Balsamic Vinegar, Himalayan Pink Sea Salt