Honey Ginger Glazed BBQ Ribs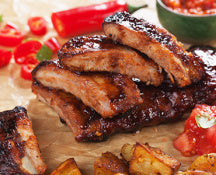 Ingredients
4 racks (8 lbs) Baby Back Ribs
¾ cup + 3 Tbsp SOOC Honey Ginger Balsamic Vinegar
3 Tbsp Brown Sugar
12 Garlic cloves, minced
1 Tbsp SOOC Sicilian Sea Salt
1 Tbsp + 1 tsp SOOC Japanese Roasted Sesame Seed Oil
3 Tbsp Honey
2 Tbsp Soy Sauce
Toasted Sesame Seeds (optional, for garnish)

Directions
Combine 3 Tbsp of Honey Ginger Balsamic, brown sugar, Sicilian Sea Salt, and 1 Tbsp Sesame Oil to make the marinade. Coat the ribs with mixture and allow to marinate for at least 12 hours in a sealed container.
For the glaze, combine ¾ cup of the Honey Ginger Balsamic, honey, and soy sauce in a small sauce pan over medium heat. Allow to reduce by half and remove from heat. Add 1 tsp of Sesame Oil and stir to combine.
Prepare the grill and preheat the oven to 275°F. Over medium heat, grill the ribs (about 5 minutes per side). Place ribs on a large baking pan in a single layer. Brush on the glaze and cover with foil. Bake the ribs for 2 hours or until tender and the meat falls off the bone. Sprinkle ribs with sesame seeds to garnish. Serve and enjoy!