Pulled Pork with Pomegranate Glaze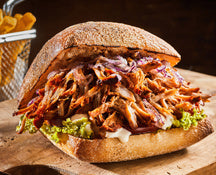 Ingredients
¾ cup Paprika
⅓ cup SOOC Rosemary Sea Salt
2 Tbsp Mustard powder
2 Tbsp black ground Pepper
1 Tbsp Dijon Mustard
¼ cup SOOC Pomegranate Balsamic Vinegar
½ cup granulated Sugar
¼ cup Honey
2 tsp ground Coriander
¼ cup Sun-dried Tomatoes
¼ cup Toasted Almonds
¼ cup grated Manchego cheese (or other sharp cheese)
¼ cup Garlic
1 cup SOOC Butter Olive Oil
3 lbs boneless Pork Shoulder Roast or Tenderloin (trim off excess fat)

Directions
For Pulled Pork: Season the pork roast/tenderloin liberally, all around with paprika, Rosemary Sea Salt, mustard powder, and ground black pepper. Rub them on the pork. Sear the pork on each side in a hot, dry, nonstick skillet. Add it and all remaining ingredients to a 4-quart slow cooker. Cook for 8 hours on low; when done, meat should shred easily with a fork. Remove roast from slow cooker, shred and plate on rolls.
For Pomegranate Glaze: Place dijon mustard, Pomegranate Balsamic, granulated sugar, honey, and ground coriander in a pan and simmer on low until reduced by half. Let cool down fully before using. Drizzle over the roasted pulled pork.
For Sun-dried Tomato Pesto: Place sun-dried tomatoes, toasted almonds, cheese, garlic, and Butter Olive Oil in a food processor. Slowly add the olive oil, salt to taste and serve over pulled pork. Enjoy!
Tips – If a slow cooker is not available, place the pork in a Dutch Oven and bake (covered) for 4½ hours at 375°F. Also, for added flavor, try using the Sun-dried Tomato Pesto as a spread on your rolls!